Are reindeer real?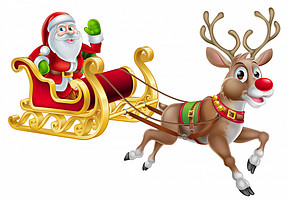 Are reindeer real?
Reindeer absolutely are real! Although the ones living in the wild sadly cannot fly a sleigh they are still a pretty cool species of deer that are often known as caribou in North America.
…a little more info please?
The official name for the reindeer species is "Rangifer tarandus", and they are one of the only members of the deer family where the females also grow antlers!  Reindeer, or caribou live in a variety of countries including Canada, Alaska, and Northern parts of Asia and Europe.  They don't actually live exclusively at the north pole but do tend to be found in more Northern regions
don't forget to leave a comment about this post or what you'd like to see next
Further Reading – check out these links if you want to learn more about reindeer!
https://www.fda.gov/animal-veterinary/animal-health-literacy/fun-facts-about-reindeer-and-caribou
https://www.britannica.com/animal/reindeer
https://kids.nationalgeographic.com/animals/mammals/facts/caribou
Check out our other recent articles too!